Meet the company that's powering remote work
Today, we're proud to announce the launch of Speedy, a Wi-Fi monitoring platform that gives property managers the ability to publish a verified Wi-Fi rating onto their listing platform in order to attract remote workers.
At the onset of COVID in 2020, as our cities locked down and our jobs abruptly became remote, we escaped Los Angeles and hopped around Airbnb properties in Southern California – spending time in the wine country, roaming the desert, and making our home in picturesque coastal towns. No matter where we went – big town, small suburb, old cabin, new estate – there was no way of knowing whether the Wi-Fi at our next destination could support our work needs, from video calls to accessing cloud applications. 
It was this 'Aha' moment that inspired the creation of Speedy. We built Speedy to help ourselves and everyone like us answer that one crucial question – will I be able to work uninterrupted?
The accelerating remote work trend is here to stay
Marking a two-fold increase since 2019, around 510 million people today earn their keep via hybrid or remote work arrangements. That's over half of the 1 billion knowledge workers globally. While remote work has long been a dream for many, the pandemic has fast-tracked this previously unattainable lifestyle into an expectation, if not a requirement, for many. So much so that an incredible 64% of the global workforce said they have already or would consider looking for a new job if their employer wanted them back in the office full-time. 
Within the remote workforce, there is a rapidly growing group of digital nomads who work on the go year-round. The 35 million-strong community includes engineers, lawyers, consultants, creatives, and marketers – anyone that can work from a laptop. And immigration laws are following suit – an unprecedented 46 countries have recently introduced digital nomad visas, encouraging foreigners to work remotely and pump money into local economies. 
Two+ years into the remote-work revolution, one thing is clear: it works. Research across industries shows that employees on flexible or remote-work arrangements are happier, less stressed, and more productive. It's not surprising given that employees can maintain a US dollar salary but swap long commutes and costly New York studios for spacious Mediterranean villas at a fraction of the rent. And for employers, happier employees means higher retention and higher performance, not to mention access to a growing global talent pool of location-agnostic talent.
The remote work problem
While location flexibility gives people the ability to work from anywhere, one thing remains unchanged: the need for fast and reliable Wi-Fi. For remote workers to honor their job commitments, it's imperative that they stay connected. In a life where adventure beckons around every corner, reliable Wi-Fi is the one amenity that is simply non-negotiable.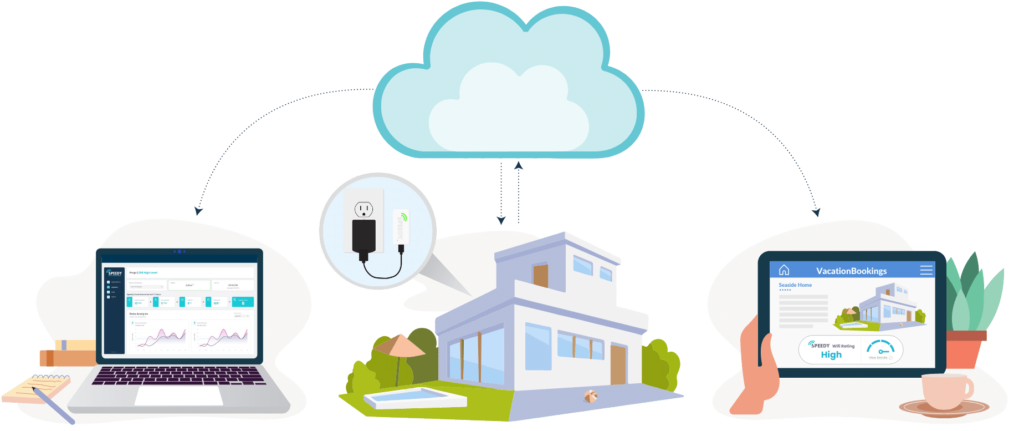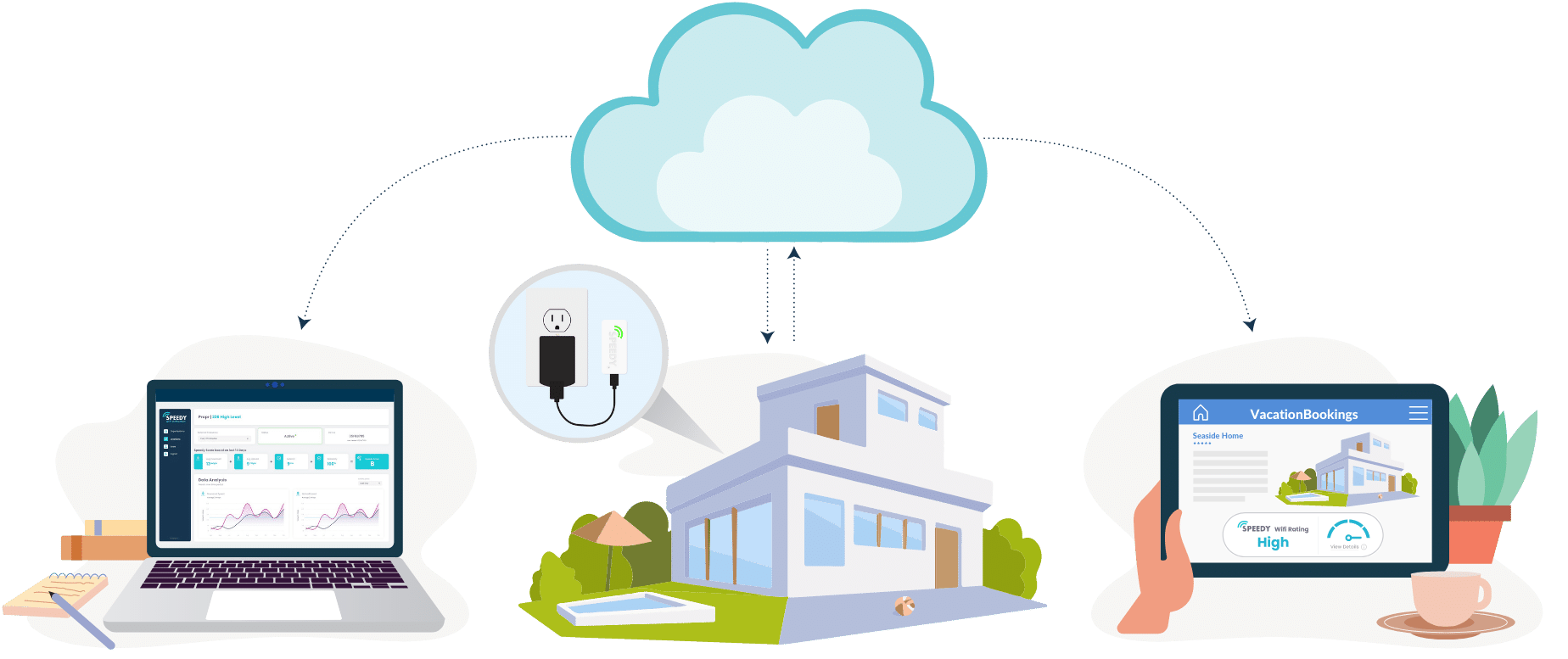 Introducing Speedy's 100% verified Wi-Fi
Purpose-built for rental properties, Speedy is a Wi-Fi verification platform that continually captures and publishes Wi-Fi performance data. About the size of a deck of cards, our Speedy device captures 1.2 million data points over 14 days to derive our proprietary score. Core to Speedy is our ability to measure speed and network reliability separately, including historical outages. 
What's more, Speedy diagnoses network issues and sends real-time alerts as soon as the Wi-Fi network goes down so property managers can proactively remedy network issues.
Gone are the days of endless Wi-Fi queries, complaints, and refunds. Speedy takes the guesswork out of the remote working experience and provides digital nomads with absolute peace of mind to work uninterrupted without dropping off Zoom calls.

Pioneering internet transparency
On track to become the de-facto Wi-Fi network auditor globally, Speedy is spearheading internet transparency across the globe. For more information on the short-term rental platform, visit our pages for property managers and guests. Or read more of our story and discover how Speedy came to save travelers from bad internet.
Get in touch with and follow Speedy on LinkedIn, Instagram, Twitter and Facebook. We'd love to hear from you! 
Sources: